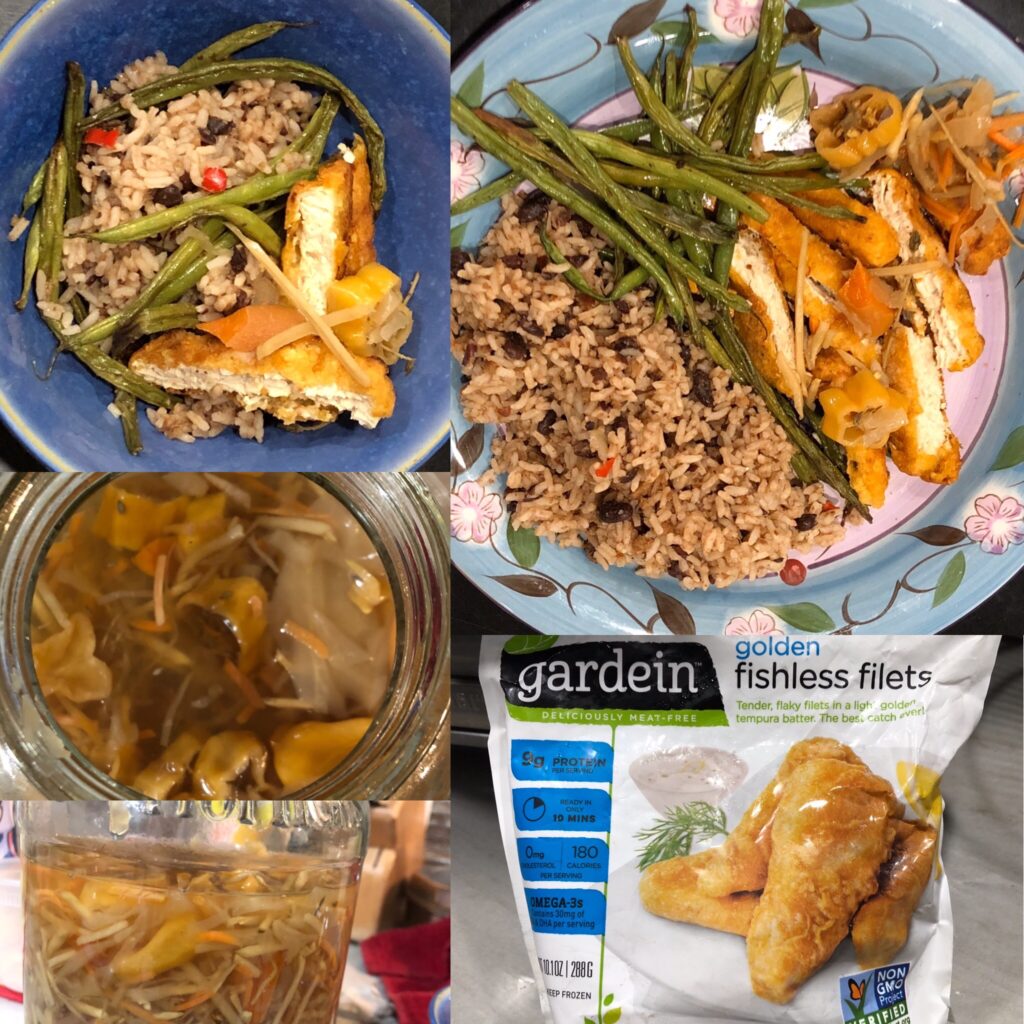 Vegan Escovitch Fish with Gallo Pinto and veggies!
ARTICLE CONTINUED FROM MY INSTAGRAM ACCOUNT
Escovitch Fish is a traditional Jamaican dish that I've had time and time again before my transition. I found myself missing it because of the crispy seasoned flavor matched with the hot tangy flavor of our version of picklies. This type of fish dish is also prepared along the beaches and other waterways of Central America. I've seen it sold down by the base of the volcano in Nicaragua and on a secluded beach in Jamaica. Inspired by the two locations and missing the flavors I decided to turn Gardein's vegan fishless filets into the meals I remembered and it was a success. The dish I've prepared is a vegan version and combination of both of those experiences, my favorite being on the hidden beach cove that only locals knew about laid out under the sun in Jamaica. Ahh memories and here's to recreating them.
Picklies: That's a condiment topping made of vinegar, scotch bonnet peppers, white onions, whole pimentos, julienned carrots, salt, sometimes cabbage, bell peppers and thyme depending on who's making this pickle of soaked fermented veggies.
I prepared the vegan fish fillets the same way it's normally done treating my vegan version the same as I would whole pieces of snapper. Dusting them with light all seasoning, white pepper, onion powder, a bit of salt and then frying them in a shallow pan of oil. Finishing them off with onions and homemade picklies just like they're served in both locations. In Nicaragua they just used salt, pepper and garlic seasoning with the hot pickled mixture but a different type of hot pepper.
Usually escovitch is eaten with festival or bammy in Jamaica but also with rice and peas so of course I couldn't help but make it with gallo pintó. Perfect match. The gallo pinto was traditionally made and is a favorite in our home. You'll need enough oil to coat the bottom of a deep frying pan. Plenty of onions so at least a whole one diced with a few thinly sliced rings (optional that's just for show). Half of a red bell pepper diced (optional but we always use it and you can sub green bell pepper as well). Three cloves of garlic diced, 2c precooked white rice and 1.5-2c precooked Central America small red beans with salt in their liquid. First heat the oil then add the onions adding the garlic and bell pepper once they're translucent. Those two steps are important because it's this mixture which flavors the oil and seasons the beans for the rice. They are what gives this dish it's flavor. Add the precooked beans and fry them on medium until they blend well with the oil and they come back. Like pool a little with the bean sauce on the side. ( I didn't say canned beans because I've never tried it with canned beans. I soak mine and cook them in large batches traditional style them use them for different dishes like this.) Now add your precooked rice. Mix all ingredients well, folding so you don't break the rice grains. * When preparing the white rice I use a little less water so that it doesn't become soggy or to ensure that it isn't mushy when after combining it with the beans. That's it! You can choose to try either of these entrees separately or all together as we did creating a tasteful fusion dish.