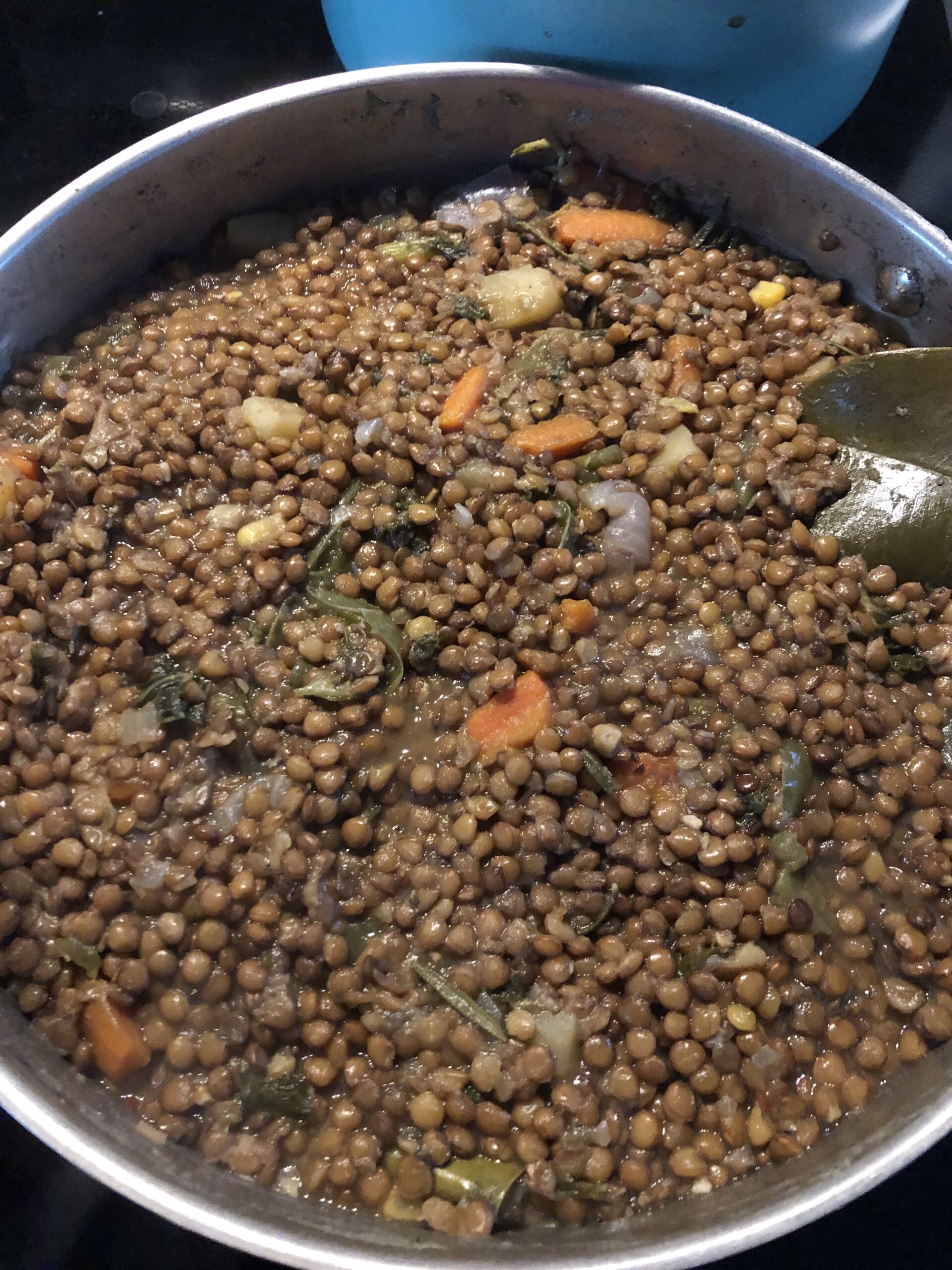 Lentils with vegetables.
Hey everyone I'm so happy to share this recipe with you all as it's one of my favorites. Also for anyone watching out for these items it's a gluten, nut and dairy free recipe.
I make my lentils from their dried state so you can buy a one pound bag of brown lentils at your local grocery store. The good thing about them is that they don't need to soak as long as other beans like black or red beans. You can soak them overnight or just for a few hours. I usually put mine in a container with water on the counter for about 3 to 4 hours. I do this while I'm making morning breakfast or afternoon lunch so they'll be ready for the next meal. That's why I love them, fresh and fast, no can openers here. I use a 2:1 ratio for the amount of lentils that I'm making. You'll see in just those few hours they swell up and absorb just about all of the water. You can chop your veggies at the same time or do it prior to cooking before you heat your pan.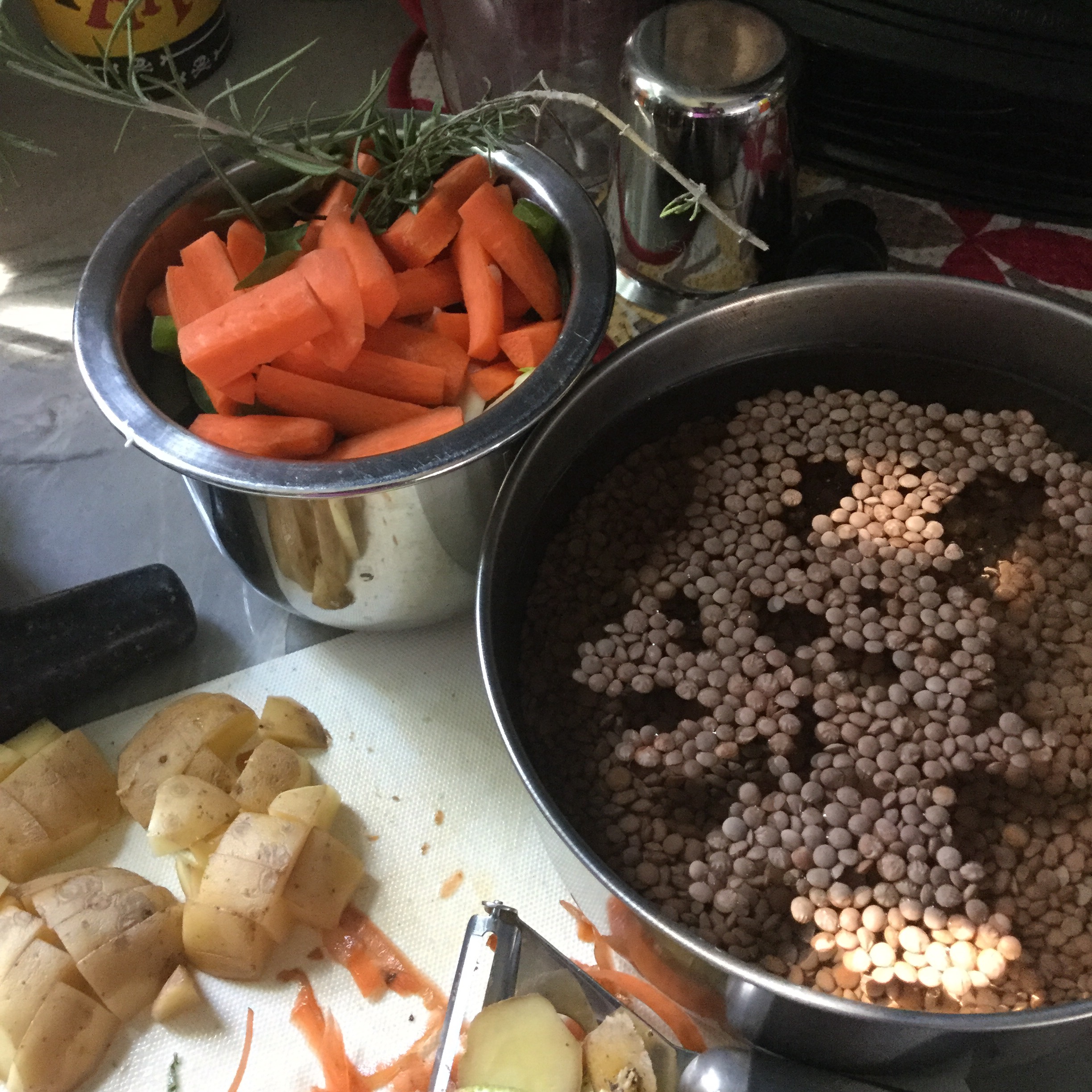 WHAT YOU'LL NEED.
1 large 5qt sauté pan or pot
1 lb, 16 oz, of dry brown lentils
4 cups of water to cook lentils
1 large potato scrubbed and cut into small chunks
3 carrots peeled and cut into chunks
1 cup of kale cut into ribbons
2 green bell peppers sliced
1 onion bulb sliced
4-5 cloves of garlic smashed well or sliced whatever you prefer
1- 1 1/2 bay rum leaves (depends on if you really like that herb/spice flavor) . You can also use traditional "regular" bay leaves. * If you are unfamiliar with this herb use one.
2 springs of fresh rosemary
2 tsp course ground sea salt
1/2 tsp ground cumin powder
1/8 tsp ground fennel seed powder
1/4 of water for deglazing pan
1 1/2-2 tbsp EVOO, enough to drizzle across the bottom of your pan
PREPARATION
Drain your rinsed soaked beans and set them aside. Turn your stove on to medium high heat and drizzle your pan with the olive oil. Add the potatoes, garlic and carrots. Sauté them for one and a half to two minutes. This step helps give the potatoes and carrots a head start since they are the most dense vegetables.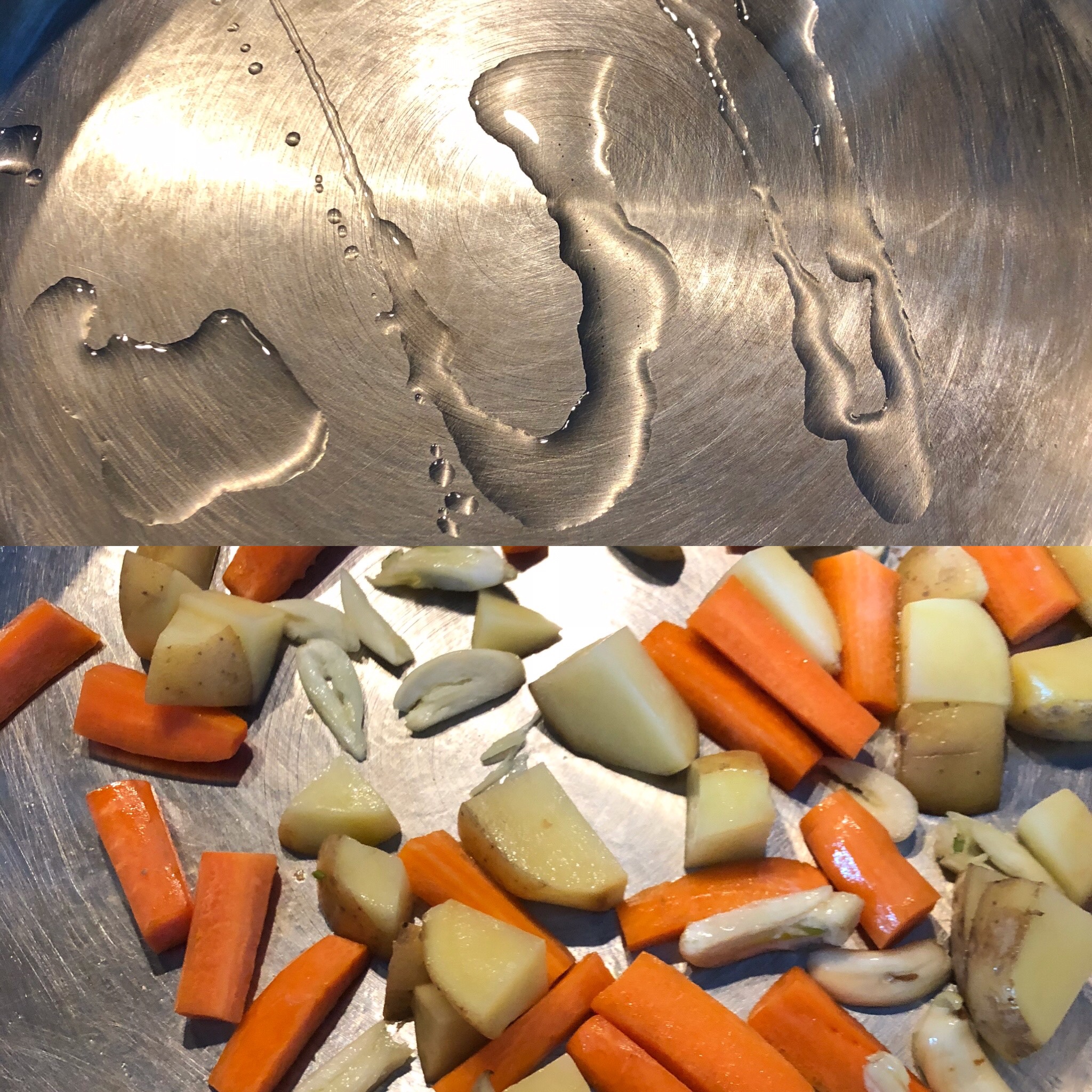 Now turn it down to medium heat and add the remaining veggies, bell peppers, onions, kale and sauté them until they become a bit softer. Use the 1/4 cup of water to deglaze the pan giving everything a stir and add all of the spices and herbs. Mix everything until all of the veggies are nicely coated with seasonings. *You can remove the ribs from the kale if you want but I left them since they'll become tender and palatable anyway. See the photos below.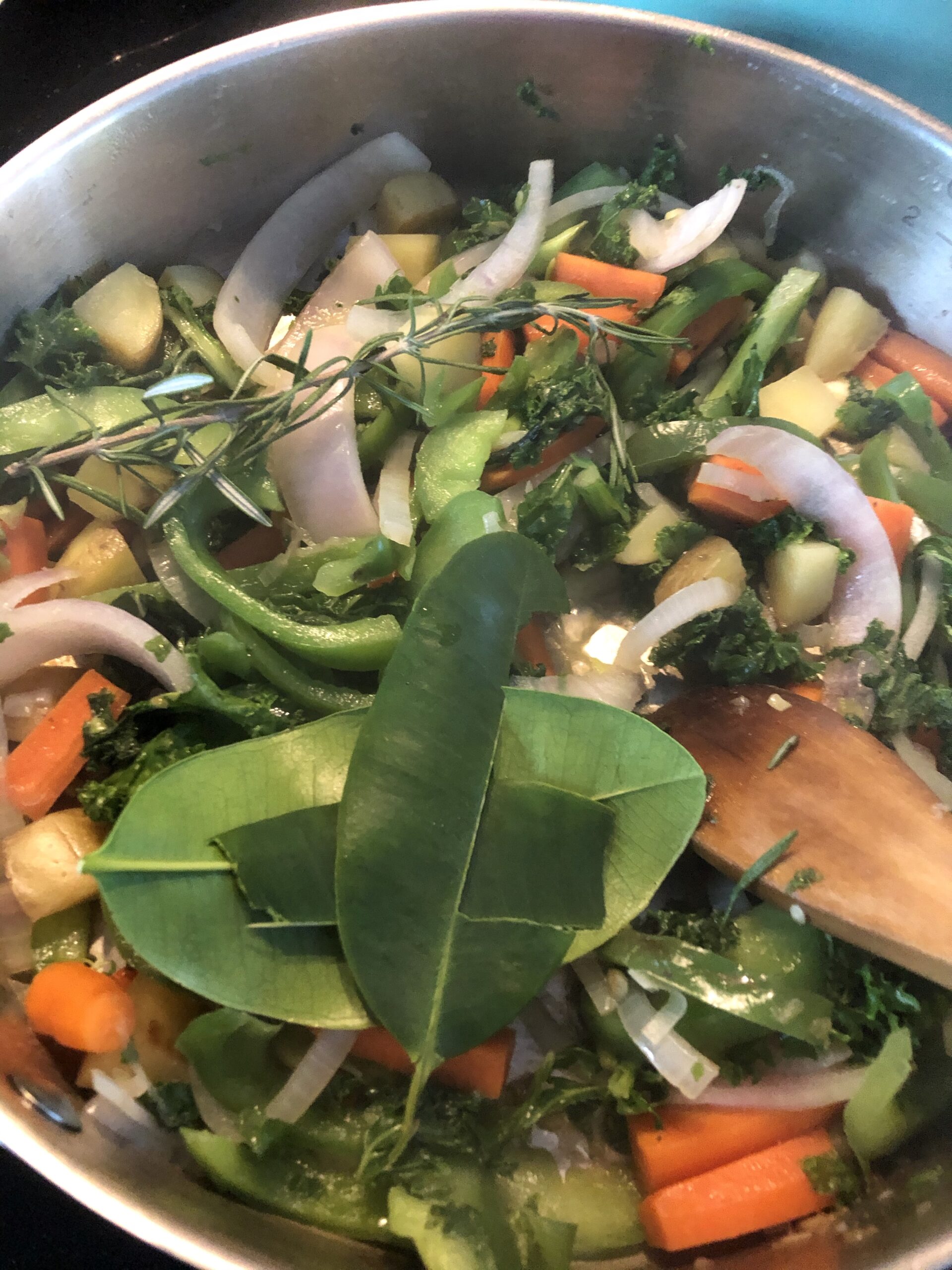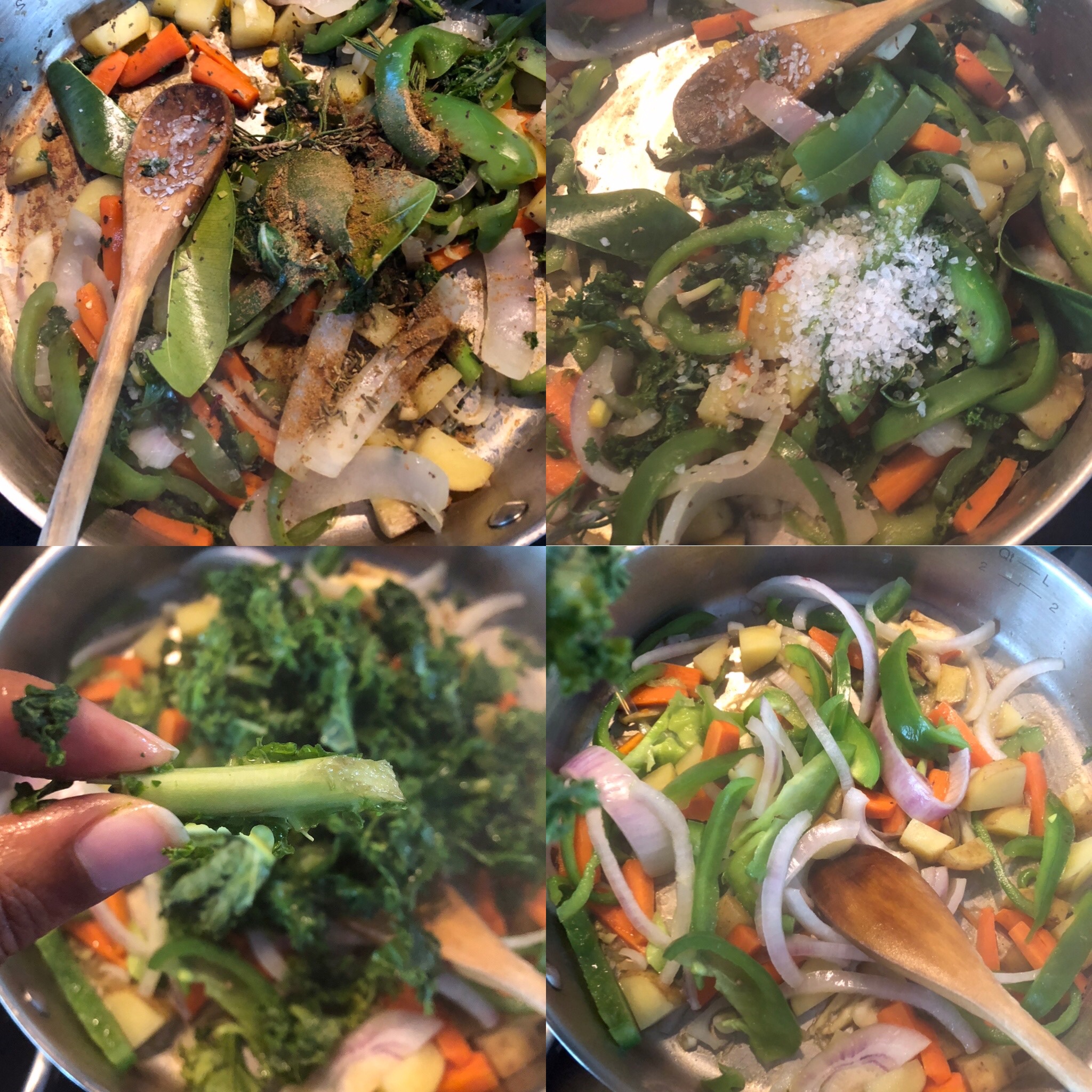 Almost done. Just add your soaked drained lentils. Stir them well into your veggie mix and add the four cups of water. I added them two cups at a time to avoid spillage and ruining the disbursement of my seasonings. Use your spoon to move the ingredients underneath to make sure the water reaches the bottom of the pan/pot. Bring the dish to a boil then cover it and cook it on low medium for 20-25 minutes.
https://vegheadvero.com/wp-content/uploads/2020/03/img_0870.mov
Do not remove he lid until at least 20 minutes have passed. At the 20 minute mark you can uncover it take a spoon and once cooled bite into the tender legumes. If you want them softer, like canned foods, you can cook them for an additional 10-15minutes. But at this point you can just stir and eat them. If you prefer more salt add it. I tend to leave them on warm or simmer for 10 minutes anyway while I am setting the table getting plates ready and while everyone is washing up and preparing for the meal. This may also be useful if you have toddlers that you think will enjoy it if you're making their food instead of buying jarred food.
https://vegheadvero.com/wp-content/uploads/2020/03/img_0871.mov
I hope you all enjoy this dish. I served ours with white rice, corn, mixed vegetables, and baked sweet plantain (plátanos maduros). Leave a comment or dm me about the recipe if you want. And follow me on Pinterest and Instagram at Veg Head Vero!