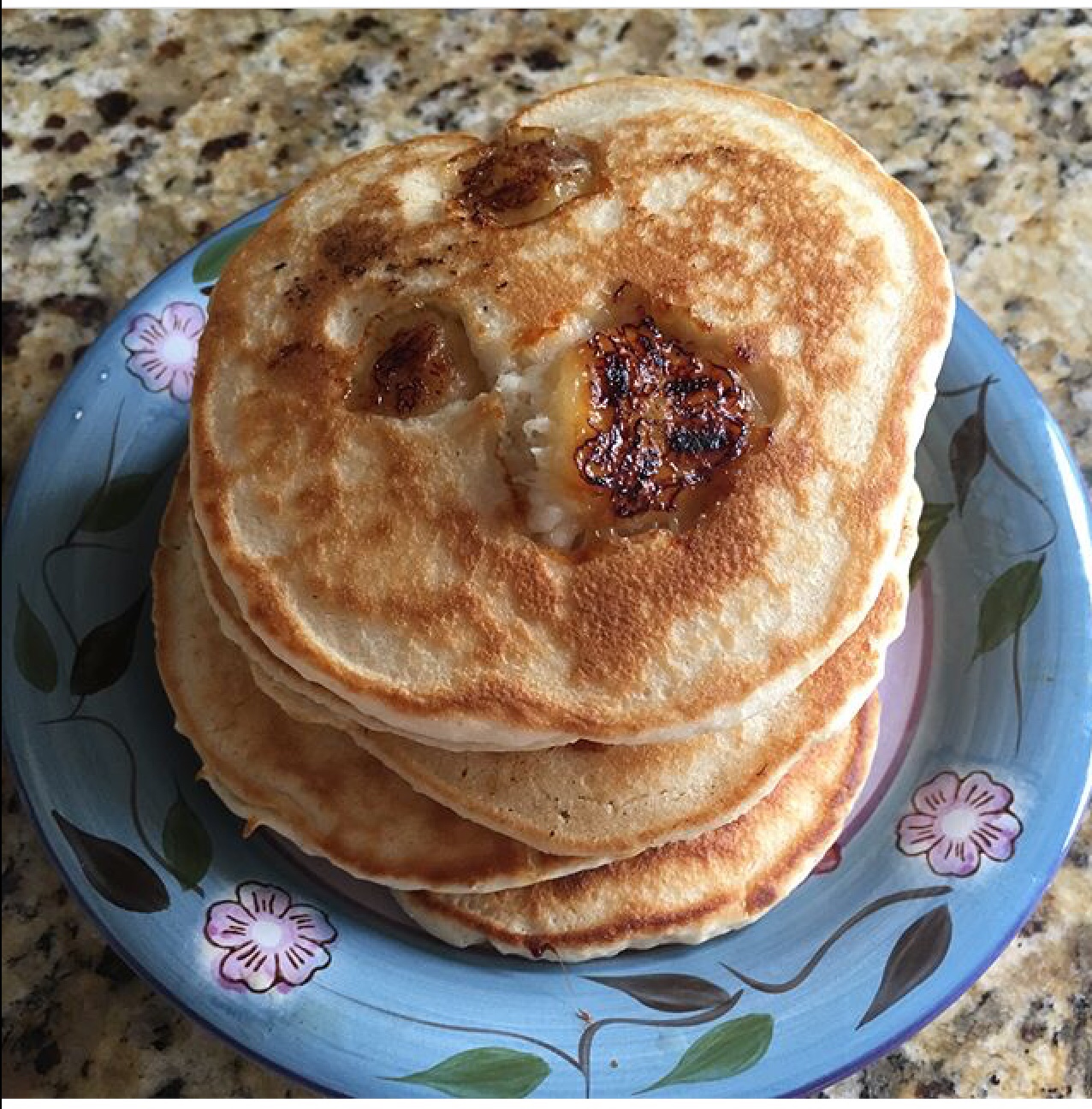 Yes to easy vegan banana pancakes!
We made these for two reasons. One, I had leftover Bisquick pancake mix. And two, I had a leftover over ripe banana so I didn't want to waste anything. ? As you know from my old post when I made the heart shaped vegan pancakes from scratch that that's what I normally do. Well we had a brunch some time ago and this box of batter was donated. It was also the exact batter that I normally used before I started making it myself. It is definitely a timesaver because all of the ingredients in the package are already vegan and the only things they request you add are egg and milk.
The Vegan Batter Substitute
Since this boxed recipe asks you to add the dairy and egg products all we have to do is use our favorite or most convenient vegan substitute. I just substitute those with almond milk and 1 tsp baking soda per cup of flour/mix (to make it fluffy like eggs). You can also, which I do sometimes but not in this case, substitute egg with ground flax seeds (binds like eggs and the box mix already has baking soda) or use any another favorite replacement you know of.
Added Flavor
I add 3/4 tsp vanilla extract for every cup flour, and 1 Tbsp sugar for a touch of sweetness.
They were good to the last drop. My husband who normally doesn't eat breakfast swallowed three of them in seconds. Ok it seemed like that because, they were gone from his plate by the time I turned around. Enjoy ? FYI I totally used a mom hack which I'll show you in the next post. Hint it was a blender!
Ingredients
Boxed pancake mix.
Almond milk for substitute
1tbs Baking powder per cup of pancake mix, egg substitute
3/4tsp Vanilla extract per cup of mix
1 Tbsp Sugar
Over ripe banana(s) sliced
Oil or butter for your griddle

Recipe and Steps
1st
For the mix follow the box instructions adding your choice of substitutes.
Then add the vanilla extract and sugar.
2nd
Heat your griddle or frying pan. It should be hot enough so that your butter melts immediately. You can also test this with a drop of water that will sizzle or a drip of the pancake batter which should do the same cooking one side of it almost immediately.
3rd
When the griddle is ready put three slices of banana on it pouring the batter onto and around them to form a 5″ pancake. Cook as you would normally do, ie flipping when the edges are a little done and the middle has a few bubbles. *The bubbles are usually not popping so much at this pot and those that are will form holes.
Finish cooking your pancakes on the other side. Remove from griddle and serve them with your favorite syrup. Mm mm the bananas are like bruleed bananas but in a pancake. Enjoy ?.